Ever wonder how often you get busy?
personal web application that will give you some insight into your sex life.
Bedpost is a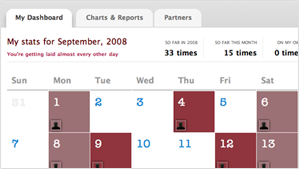 For your eyes only, Bedpost offers zero social networking features other than partner logins (now available).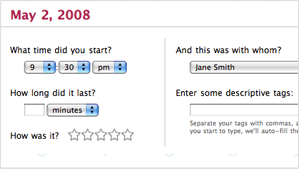 Simply log in after every time you have sex and fill out a few simple fields.

Pretty soon, you'll have a rolling history of your sex life on which to reflect.
Privacy Policy
Your privacy and data are so important to us at Bedpost that instead of hiding the privacy policy in a link at the bottom of the page, we're surfacing it up-front, right here.
When signing up for the beta, you provide Bedposted.com your email address. This email address is used for sending you the invitation you will eventually receive in order to begin using the site. This is the sole purpose of collecting this information and it will never be sold or rented to a third party for any reason, ever.
Upon receiving your invitation, you are given the option to supply your gender and sexual orientation information. This is optionally-supplied data and will be used for future features on the site and will never be sold or rented to a third party.
We understand that this is potentially the most personal of data-sets you will ever keep outside of financial records. The records you save here will never be viewed by us nor will it ever be sold or provided to a third party. This information is permanently delete-able by you, should you deem it necessary.
Bedpost uses third party vendors and hosting partners to provide the necessary hardware, software, networking, storage, and related technology required to run Bedposted.com. Although Bedpost owns the code, databases, and all rights to the Bedposted.com application, you retain all rights to your data.